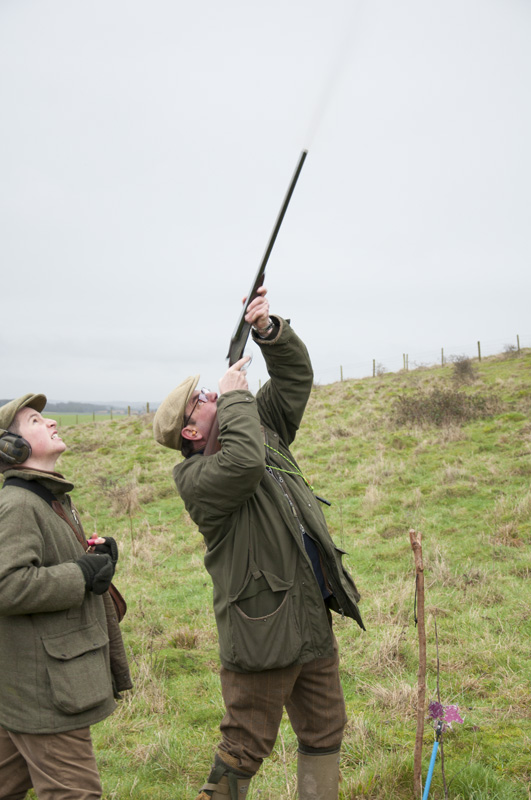 The shoot at Buckholt is a high quality Hampshire shoot - both pheasants and partridges. We really focus on providing good sport, and, we run our let days just the same as our family days. Our principle objectives are that everyone should be safe, have fun and leave with a smile on their face as well as a full belly! We aim to give a FULL day's entertainment.

A typical day runs like this:
Before the clocks go back in the autumn, breakfast is served at 8:30am, either eggs benedict or a traditional "fat boy's breakfast," moving off in the shoot's Huggland at 9:30am. After the clock's change we start half-an-hour earlier. (This allows for a slightly less rushed lunch.)

Having moved off we shoot two drives before stopping for elevenses which consist of soup, and our version of "Kentucky fried" partridge and duck pancakes.
This is followed by another two drives before coming into our house for drinks and lunch. Unless otherwise requested we serve roast beef, lamb or pork, a traditional english pudding, cheese and chocolates, washed down with fine wines and a cigar to finish. Our main wine this year is Calon Segur 2002. We try to "do lunch" in about two hours peg to peg. I hate a rushed lunch!

The afternoon consists of a further two drives followed by a good tea, lots of crumpets, tea cakes, home made biscuits and of course our infamous thunder and lightening sandwiches. The guns are cleaned by the keeper during tea.
All guns are welcome to stay after tea for a drink.
The whole family get involved with the shoot, if the children come back from school and we are still having tea they join us and announce the "bag."
The days that we offer at Buckholt are: Partridge days from mid September until nearly the end of October with "bags"of between 200 and 350. Mixed days, from mid-October, varying in size from 200 to 350. All days are run along similar lines, we shoot 6 drives and the hospitality is the same.
The Costs are all inclusive and we do not charge overage or a surcharge for extras at lunch. Likewise we do not refund if the weather intervenes, although the guns can take out their own weather insurance. We can seat 18 around our dinning table and so would hope for a maximum of 16 plus Sarah and myself.
As i ask everyone at Buckholt to use paper-cased cartridges, I supply them free of charge in 12, 16 and 20 bore. Any other gauge, please bring your own.

If required we can accommodate a full team of guns at our Shoot Lodge, Buckholt Stables, the night before and/or the night after shooting.

Stables
If you are interested in knowing more about the shoot at Buckholt please do get intouch.

I have been involved in running Shoots for the last 20 years. I have also been fortunate to shoot at some of the most prestigious shoots in the British Isles. Buckholt is special to me because it encompasses some stunning drives and scenery, but mainly because Michael and Sarah ensure that the day is one to remember both in the field and back in the warmth of their delightful home. Their Catering and choice of wines are unsurpassed ! Take a day and join the unique Buckholt Club.

I have been lucky enough to know and shoot with Michael and Sarah for over 35 years. During this time I have witnessed Michael improve and develop two shoots in the Salisbury area. I am of the belief that he has now reached a pinnacle of excellence. Buckholt gives a days' shooting of immense depth and is not just about shooting good quality, well presented birds. The food, wine and accommodation are all first class and my clients often comment how a traditional, very uncommercial, feeling envelops days there.
I have shot many times at Buckholt both for partridges and pheasants. Michael is undoubtedly the best host I know and he runs the days beautifully. I highly recommend the early partridge days which are just fantastic.