The White Park Breed of cattle can trace it'sorigins in the United Kingdom back more than 2,000 years. They are very closely related to Brtiain's original wild white cattle that were enclosed into parks by the nobility during the middle ages. By the end of the 19th century such parks had largely gone out of fashion and the breed struggled to survive.

White Park types are found in the pre-Christian Irish epics, such as 'Tain Bo Cualgnel (The Cattle Raid of Cooley),"where white cattle with coloured points' were often mentioned as a special and choice breed.

In 1973 there were only around 60 White Park cattle left but thanks to some hard work by a few committed breeders, there are now more than 1500 breeding cows, making them, as classified by the Rare Breeds Survival Trust, no longer "rare" but a "minority" breed. The Trust uses the head of a White Park as their logo.

White Park beef is lean and tasty, marbles well and cooks beautifully. When properly hung the joints will shrink very little and the natural juices produced will be full of flavor. The meat is much sought after and sold by name in many top restaurants and butcher's shops.


The late AA Gill said in The Sunday Times: 'The white park, a breed I've never eaten before and had always assumed was purely ornamental, was really excellent: soft chewy, with the strong, distinctive, almost corrupt flavor of proper beef... it was the best steak I've had this year."

It is rumoured that the sirloin was named when King James I knighted a tasty loin of the White Park beef during a meal at Hoghton Tower near Preston, Lancashire in 1617. According to a Lancashire legend, James I drew his sword and told the pages to bring the beef to him. They went down on their knees and the king knighted the beef saying: "Arise, Sir Loin."

The Selkirk Herd At Buckholt
The Selkirk herd, resident at Buckholt, was started by Sarah Matthews in 1995 when six cows, some with calves at foot, were bought from a dispersal sale at Toddington, Buckinghamshire. Only three other cows have since been purchased but, during the early years, a bull was bought every 3 years to avoid in-breeding.

 

Now the herd is made up of 50 breeding cows and is a "closed herd," i.e. all the replacement cows and bulls are bred on the farm. All the offspring that is not kept for breeding are fattened up and are sold either to a local butcher, Evans & Sons in Alresford, or, after they have been butchered and packed by Evans & Sons, sold to private customers .
They spend most of their time outside on grass and only come into sheds in the winter, so as to prevent the ground becoming muddy and poached. Calving happens in two blocks, one-third calve inside the sheds around Christmas time, while the majority calve outside during the summer months.


The calving is split so that beef can be produced most of the year round. All their food is grown at Buckholt, they live off grass and haylage, and the fatteners are fed a little rolled maize and barley, also grown on the farm. This is to ensure that the beef is well marbled. All the animals are under 30 months of age at slaughter, a regulation laid down by the government. The only purchased "food styff" are some mineral blocks, which are avalible for the cows as required.



Our cows are very quiet, being regularly handled, and although the herd does not have organic status, as Buckholt Farm is not a registered organic farm, they are reared on a non intensive system. Medication is only used when necessary and prescribed by a vet.

The fatteners when "finished," are taken to a small, local abattoir where they are slaughtered, normally within an hour of delivery. This keeps the stress levels to a minimum and it shows in the tenderness of the beef. The carcasses are then hung for between 4 and 6 weeks which means that the end result is very tasty and tender beef.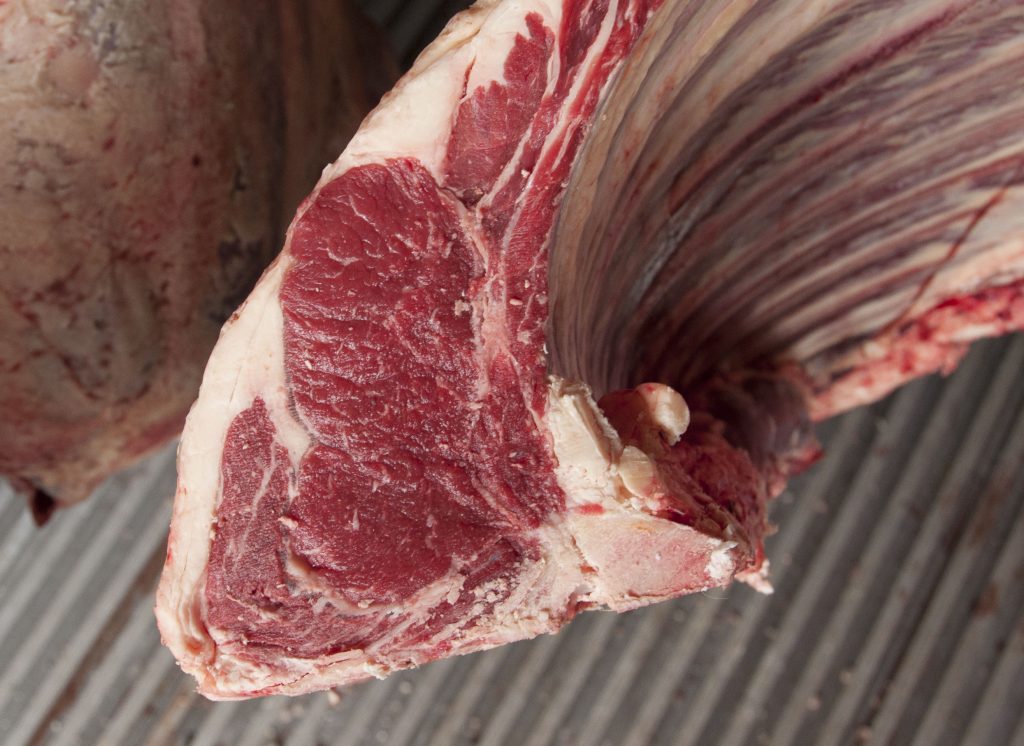 If you would like to be added to the mailing list for more information on the beef we produce, please contact us at the following: beef@buckholt.co.uk

We have been a customer of Michael's now for several years. The White park Beef never fails to impress, beautifully hung meat that has become a firm favourite of our catering and private customers. Frequently ask for by name, with a fairly constant supply our customers are rarely disappointed. The distinct taste of this meat lets you know this is no ordinary beef but something to be truly savoured.
The first time we ate Buckholt White Park beef, both my children commented on how delicious it was! We've had lots of different cuts, from fillet, ribs, joints for roasting, to minced beef and I can honestly say there is no other beef to match it. I would highly recommend Buckholt beef if you're wanting to enjoy traditional English homegrown quality beef.